Apr
4
Sat
The Cannock Chase Half Trail Marathon

@ Tackeroo Camp Site, Penkridge Bank Road, Nr Rugeley, Staffordshire, WS15 2UA
Apr 4 @ 9:45 am – 1:30 pm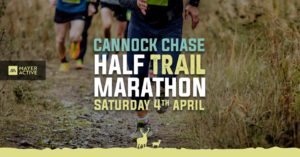 From their website:
13.1 miles of undulating trails around the area of outstanding natural beauty of Cannock Chase. In our view a true trail runners paradise!
The only single lap Half Marathon on Cannock Chase.
Saturday, 4 April 2020 from 09:45-13:30
Tackeroo Camp Site, Penkridge Bank Road,
Nr Rugeley, Staffordshire, WS15 2UA
Further Details & Tickets
https://mayeractive.co.uk/events/mayer-active-cannock-chase-trail-half-marathon-2020
100% fully off road, we take you along single track trails, fire roads many of which are off the normal beaten track. A true adventure!
Unlike many of the events on Cannock Chase, we work really hard to design a course that really excites us. You can come along and run along the main fire roads anyway of the week. We want to take off the beaten track. This is course that will challenge all but at the same time isn't too difficult making it suitable for new and long time runners alike.
Check out the 2020 event – https://youtu.be/xmQNcnqs9-M
This is an event for all, yet like all of our other events our main aim is bringing like-minded people together to enjoy a sport we all love… Running. If you want to take it serious then great but if like many just making it round is your challenge then fantastic! We will support you every step of the way
For the first year the entries will be limited to 600 so please enter early to avoid disappointment.
CaniX – After testing CaniX at last years event we've decided to make it a category for the 2020 event. CaniX will get a slightly earlier start so they get space to run free.